Do your children love to read stories or be read stories by you or other family members? Do they enjoy being transported into magical and exciting worlds? Do they enjoy reading books that make them feel as if they are right there as part of the story? If the answers to these questions are yes, why not think about introducing them to the Prince Zaaki series.
About the author
Heba Hamzeh is a mother to three children who inspired her vocation as an author. One evening, Heba finished reading her son a bedtime book, and he asked for another story. At that moment, Heba decided to weave a tale about a boy named Prince Zaaki. The following night, her son asked for another Prince Zaaki adventure, and so the Kingdom of Luella began to grow. Forthwith, Prince Zaaki bedtime stories became a ritual — a nightly occurrence — as her son would sit in bed, enraptured, as Heba described a magical world full of mystical characters and mysterious places and memorable battles.
Prince Zaaki and The Royal Sword of Luella
In the first book of the series, Prince Zaaki is heir to the throne and his father, King Zok, has decided that on his twentieth birthday he will succeed his father and become King of Luella. Thus the Prince embarks on an expedition across his great Kingdom before the accession to the throne. Attempts to assassinate the Prince occur during his travels, danger lurks in the Royal Palace and the King and Queen of Luella are imprisoned. Prince Zaaki is taken to a mysterious Island where there is a special school for uniquely gifted children and he begins to learn and unravel the hidden secrets of souls and life.
This book has had some wonderful reviews from readers who have described it as: "incredible"; "beautifully written"; "wonderful ethics for kids" and "a story for all ages".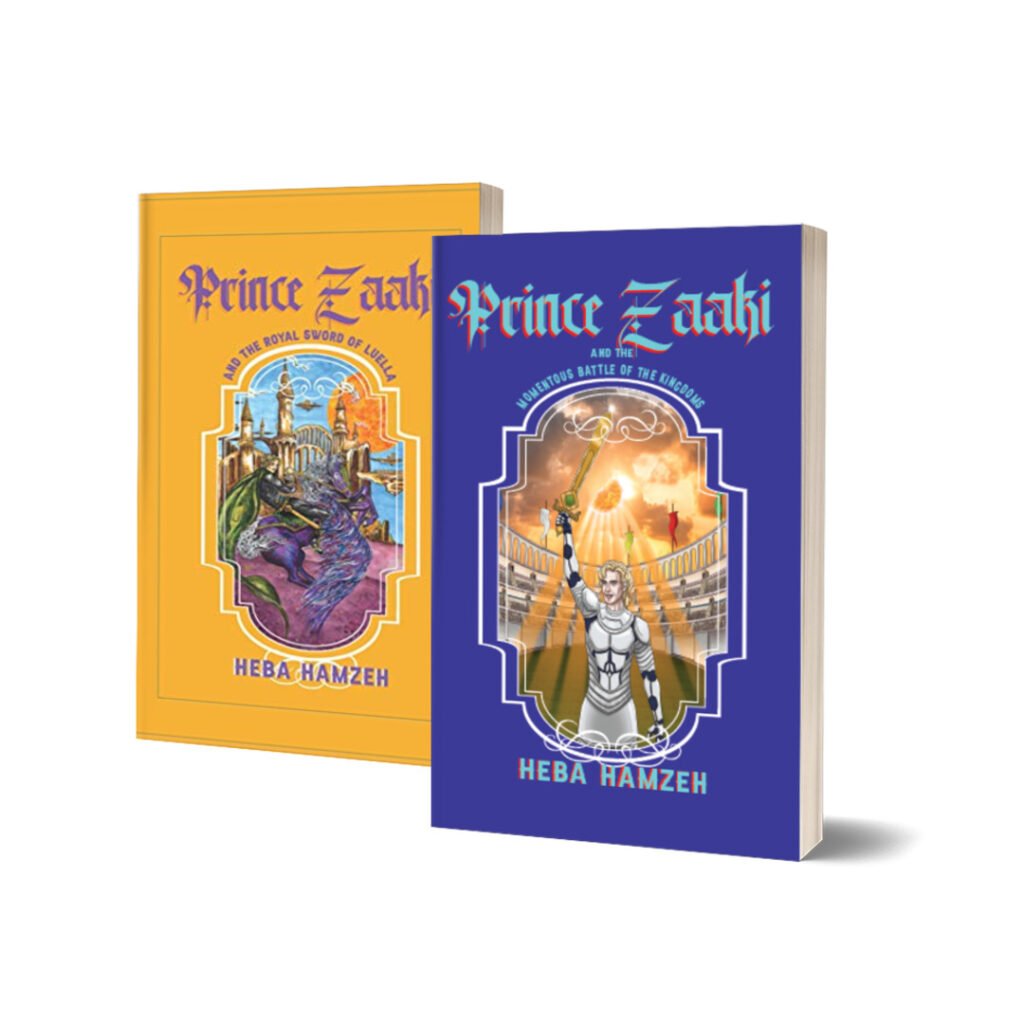 Prince Zaaki and the Momentous Battle of the Kingdoms
In the second book in this series, The Battle of The Kingdoms takes place in the Royal Amphitheatre of Luella and the winner is awarded the newly discovered Island. Prince Yalem from the Kingdom of Yistyyim aids Prince Zaaki in the preparations of the Battle of The Kingdoms. An unexpected visitor from Prince Zaaki's past returns to cause mayhem in the lead up to and during the momentous battle. More surprising events take place during the battle and the Goddesses attend with some of the children from the TransM school to support and help Prince Zaaki.
Goddess Lulu and Goddess Ella invite Prince Zaaki to the TransM school to watch Charon and Karena use their special gifts to help guide a soul from one body into another. Prince Zaaki learns about the hidden stages of a soul and continues his journey in understanding the hidden meaning and purpose of life.
Readers have found this book to be full of "real life meaning and lessons"; "an exciting read" and "a great follow up to the first book".
What the author says
For some greater insight into these books, here is what the author had to say:
"Prince Zaaki is a young man about to finish his teenage years and enter into adulthood. But in addition to this, he is heir to the throne and will be King one day thus he has been groomed to take his father's place. Prince Zaaki has a kind heart and cares about his Kingdom and the people of his Kingdom. Throughout the books, it will become more evident, Prince Zaaki's courage, strength and wisdom to protect his people from danger and evil. As for Hollywood actor that most resembles Prince Zaaki, I am not sure. My children were my inspiration and so the three main characters, Prince Zaaki, Goddess Lulu and Goddess Ella are based on them. I do know that whilst I was writing about the Leader of the Sizzlites, Goldy, I imagined Lady Gaga for that bold, courageous leader. She popped into my head as I created Goldy and remained there ever since".
Where to buy
If these adventures sound like the kind your children would enjoy, you can purchase both books from Amazon. They are available here and here. Depending on how you like your books, they are available on Kindle, in hardback and paperback. Are you ready to escape into the magical world of Prince Zaaki?