My childhood revolved around car ferry trips to Europe and driving around with my parents in our camper van singing to Queen, Billy Joel and ABBA. Those are amazing childhood memories for me.
We always travelled with Townsend Thoreson, sailing many times on the Herald of Free Enterprise. If you are of a certain age you will remember that this was the ship which capsized moments after leaving the Belgian port of Zeebrugge on the night of 6 March 1987, killing 193 passengers and crew.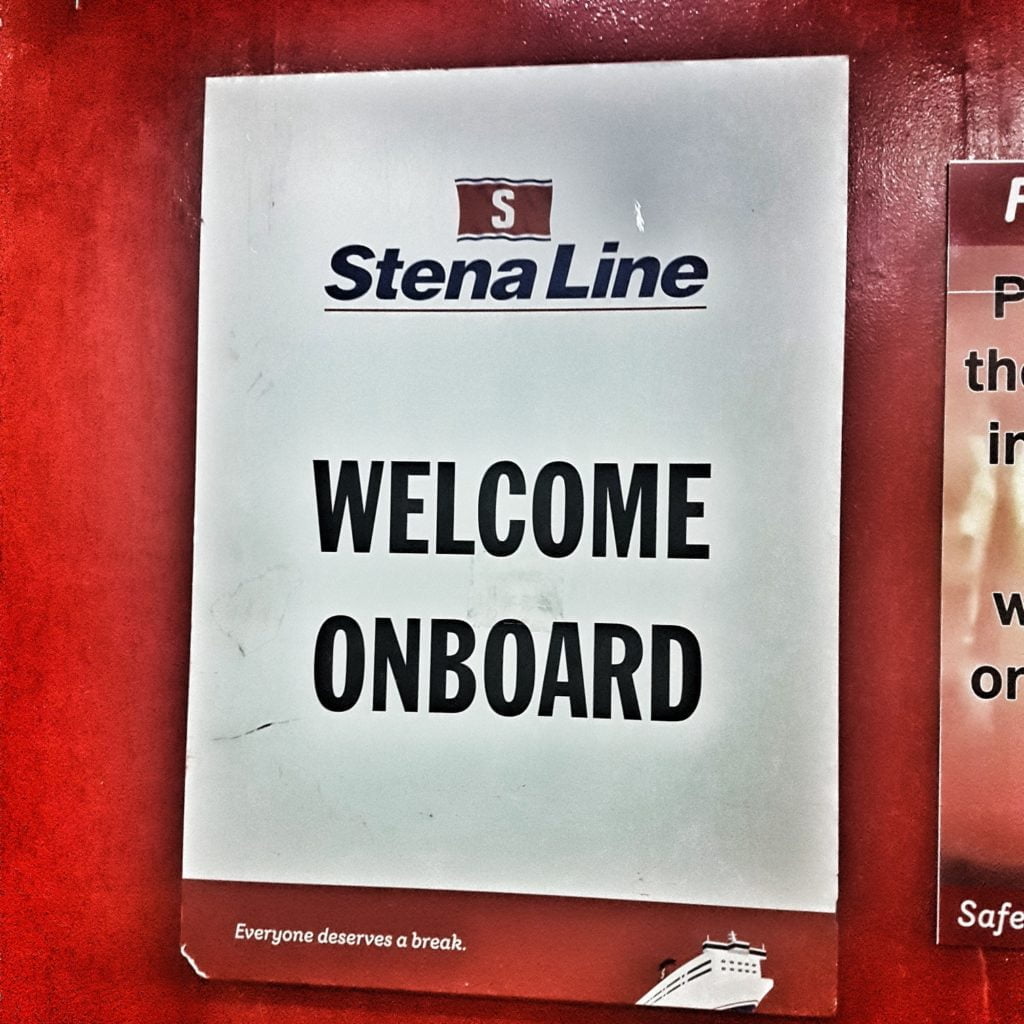 They used to do this cool club for kids, where you collected a stamp from the pursers office on every ferry you went on. When you had all the stamps, you were allowed to visit the Captain on the bridge. As a seven year old, visiting the bridge of the Herald of Free Enterprise was super exciting – it sank a few weeks later. We watched the coverage on the BBC and 32 years later, I still remember that day.
A first for the children
With my own children we've always travelled on the Eurotunnel to France, so they've never been on a car ferry. A recent trip to Ireland was the perfect time to try this out.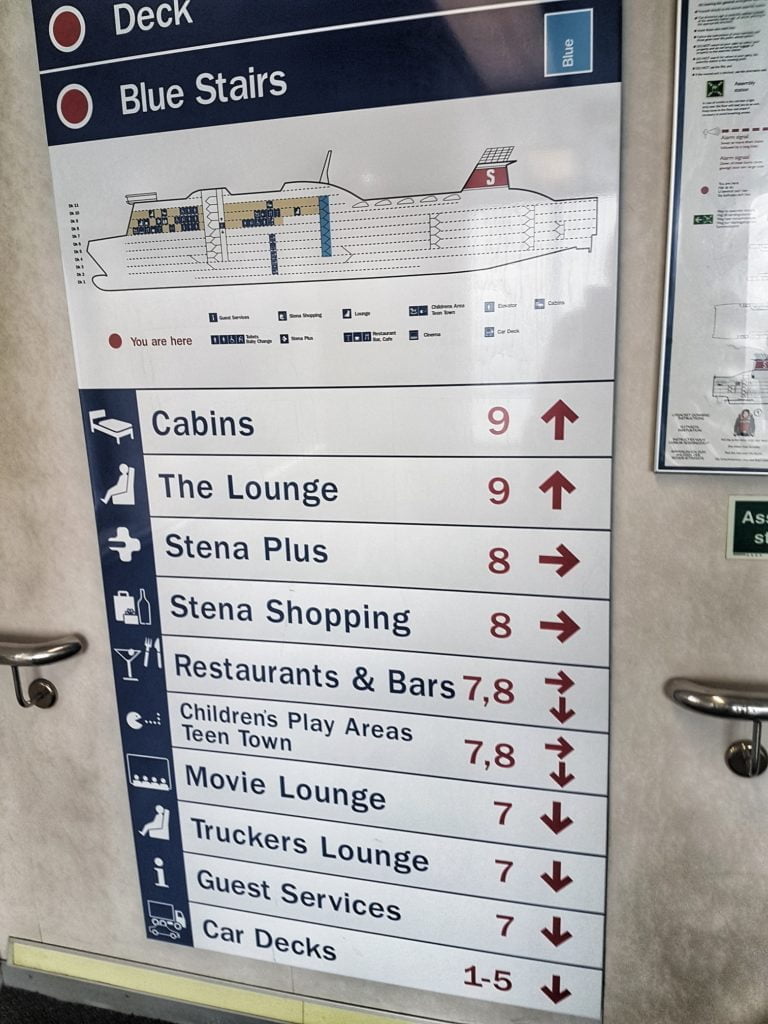 We recently made a return trip to Ireland with Stena Line, travelling from Holyhead to Dublin.
Check in was swift and simple and boarding was efficient. It's roughly three hours each way, which is manageable with small children.
The ships are slightly different. We travelled on two different ships, which, although similar had a few differences. Stena Line have actually got new ships on order that will be in service in the not too distant future.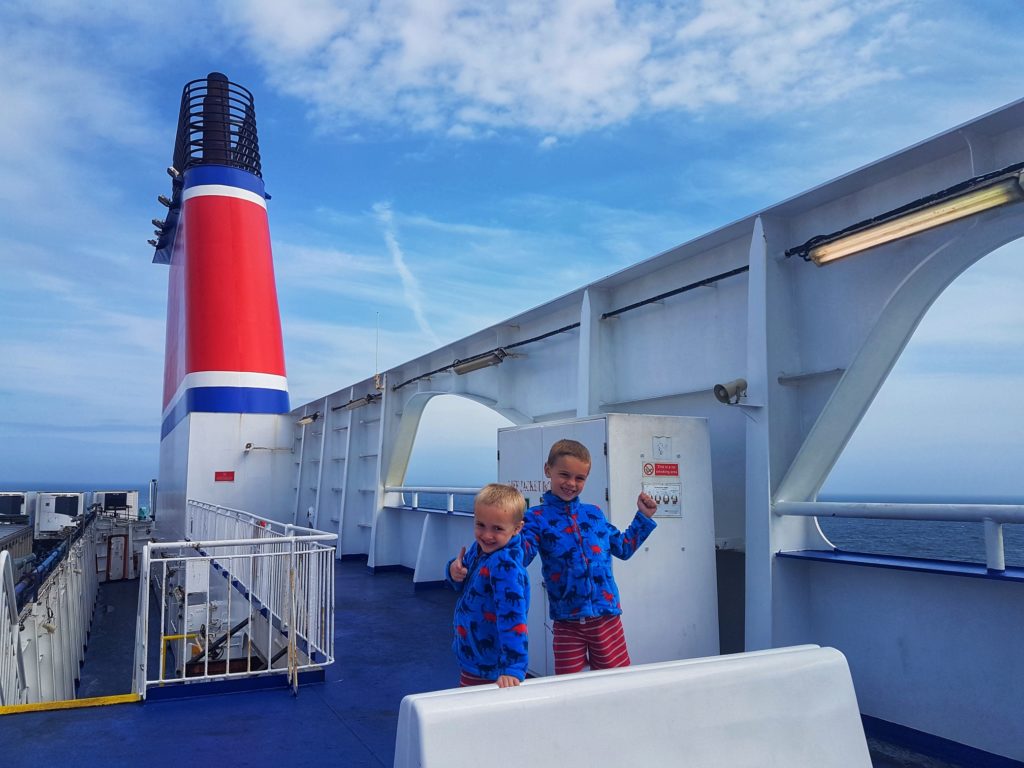 Facilities on board
One of the beauties of travelling by car ferry with children is that you can explore the ship. You don't have to stay in your seats, you can walk around both inside and outside – great if you need a bit of fresh air, or the kids need to burn off some energy.
The boys had a good explore of the ship on both our journeys with Stena Line, but on the way to Dublin they spent ages outside, spotting other boats out at sea, counting the lifeboats on board and generally loving the outside area on the ship.
Here is a little taster!
There are also play areas on board, there was a teen area, a cinema, which was showing The Grinch on both of our journeys at set times. I think with the cinema, they'd be better just continuously showing films on a loop as this was a really popular area. The ship on the way back had this cute little play boat, which the boys loved. They took it in turns to pretend to be captain.
One of the things we were really impressed with were the options for seating. Without paying for a more exclusive area you can find loads of lovely places to sit and there seemed plenty of space. We expected it to feel very crowded during the school holidays, but there was tons of seating.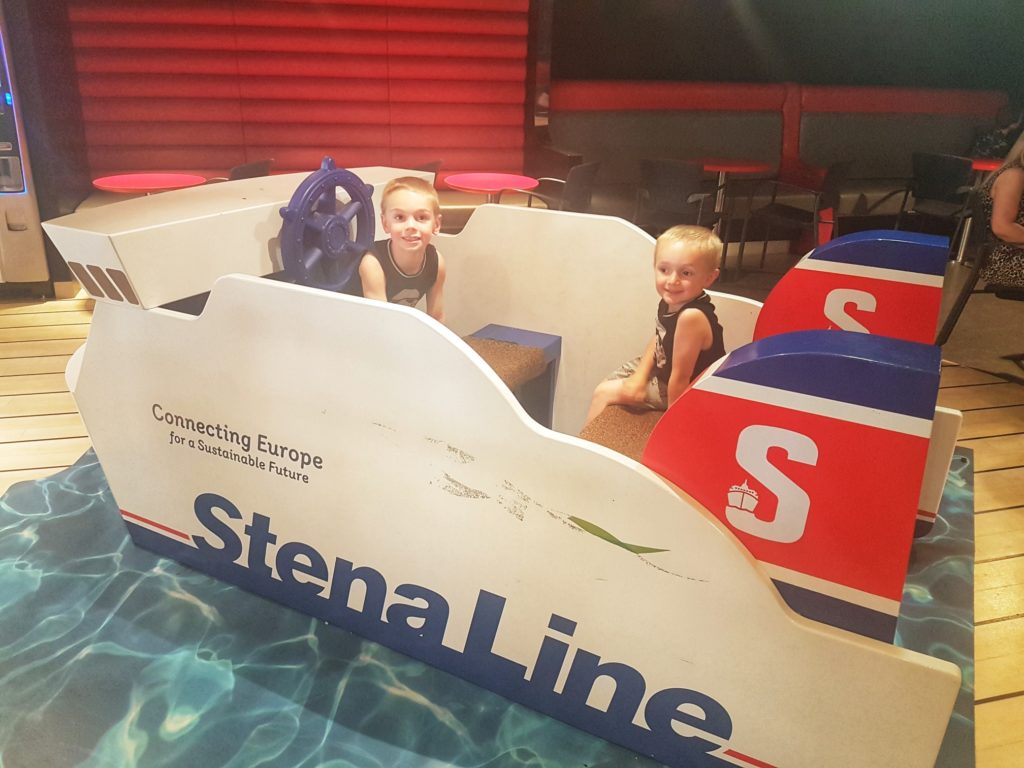 You can opt for the Stena Plus Lounge for £15 per person each way. This gives you a separate seating area and a range of complimentary drinks and snacks, very like you'd see in an airport lounge. This did look very nice and children were allowed in, although if you have younger children who don't sit still long it's probably not worth it.
There are cabins available if you need one. These are used by the truck drivers, older passengers in need of a sleep, and families wanting a base. We had a look at one on the way over and were really impressed. It's nice to have that facility available if you need it.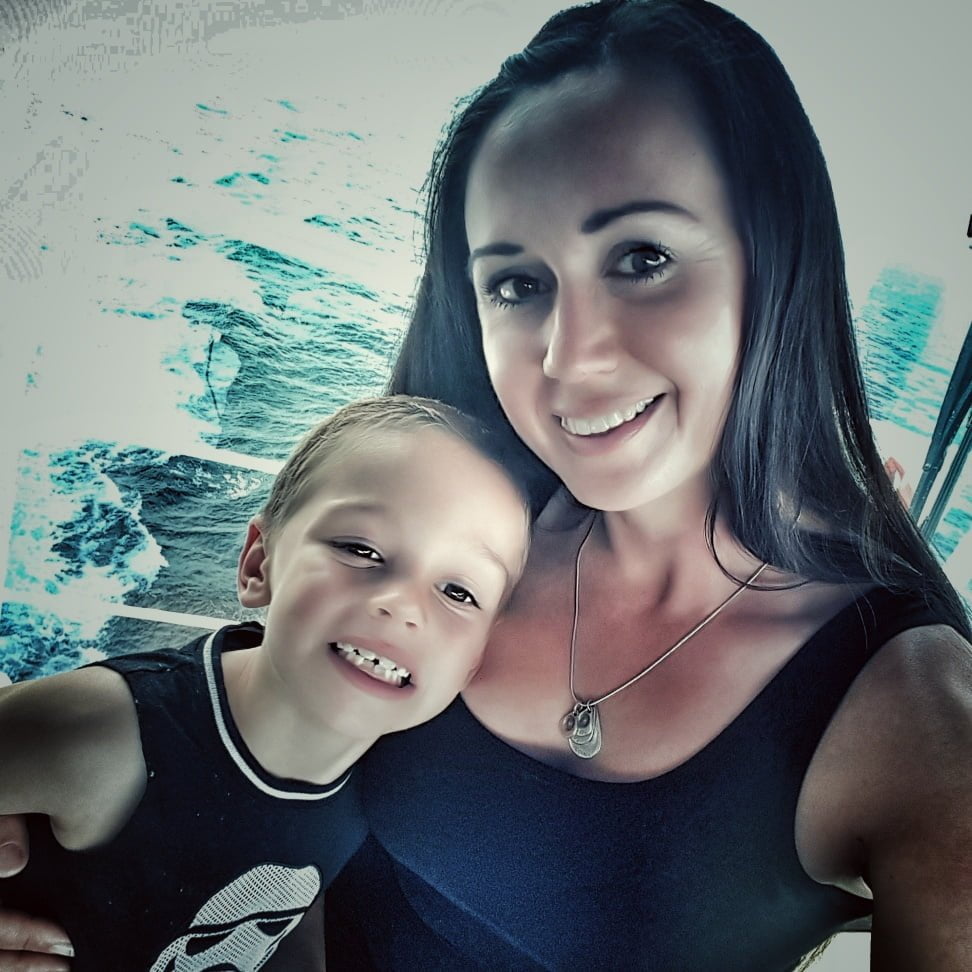 There were lots of different options for food on board, depending on what you fancied. There is also a bar, so you can have a drink and relax whilst you watch the children play.
A visit to the bridge
On our return journey, the boys were lucky enough to be invited to meet the Captain and visit the bridge – where all the action happens!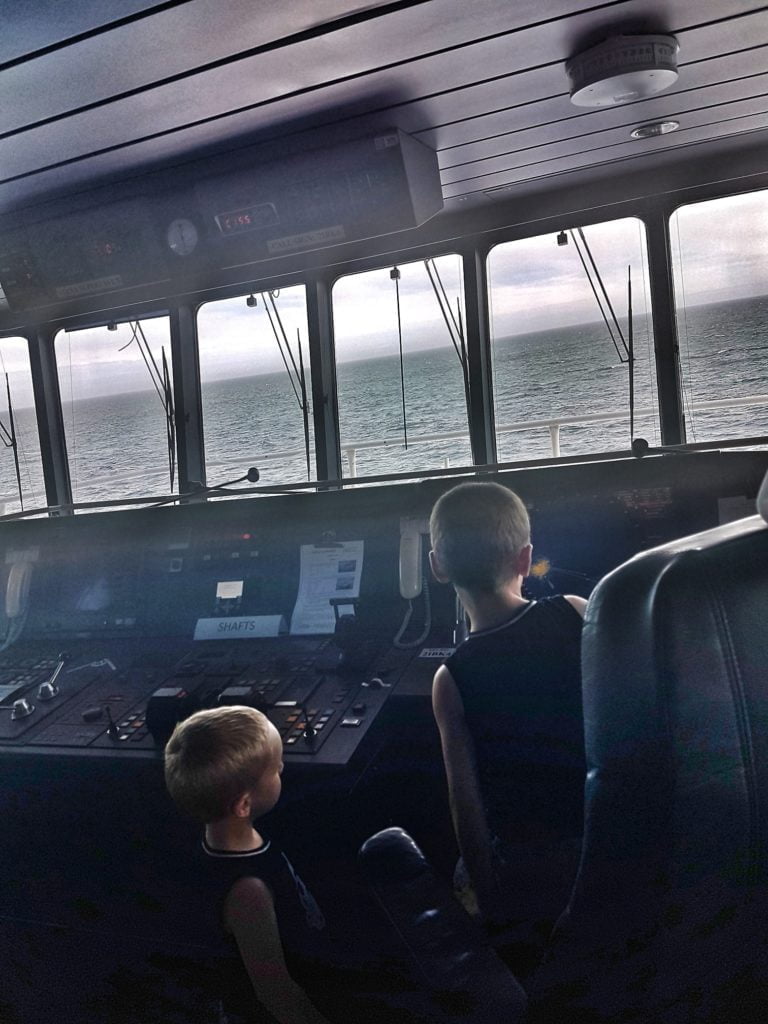 What was amazing was the view you get from there. One of the boys' questions was why does the Captain sit at the top – it was easy to see why, the view was amazing and you can see so much more from up there!
The boys took it in turns to have a sit in the Captain's chair and they also got to have a go at steering the ship – all very exciting stuff and a lovely way to end the holiday we'd had in Ireland.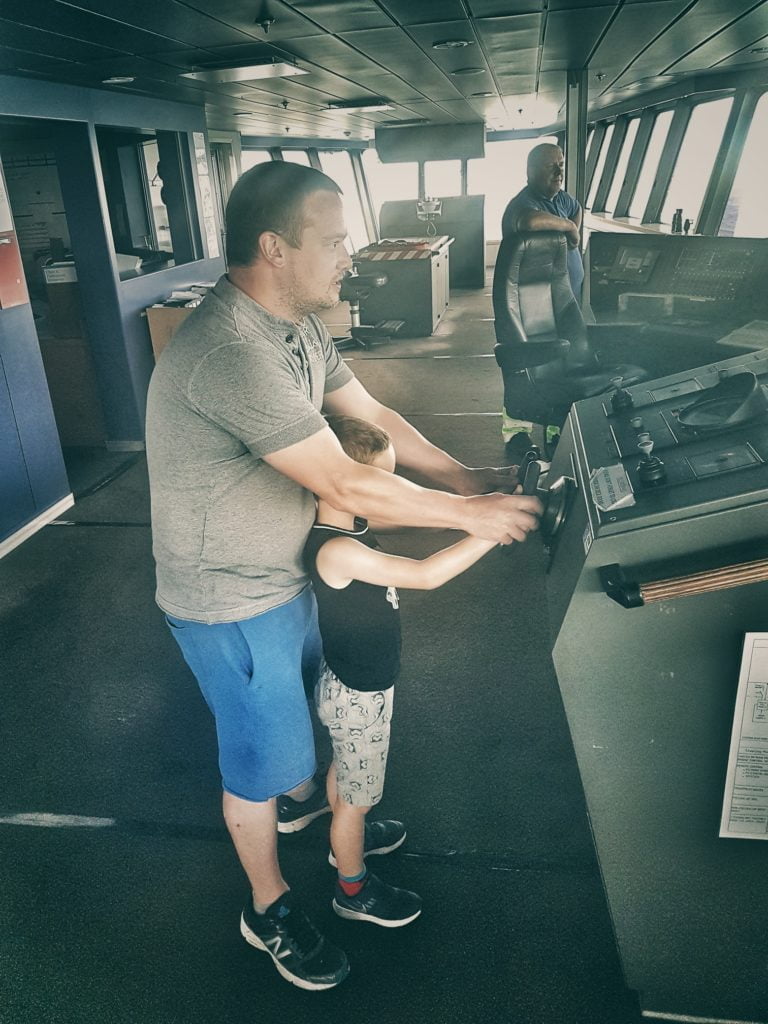 It was really interesting to see how everything works and hear some of the Captain's stories.
Family-friendly travel
Without a doubt Stena Line is a family-friendly company. They have really thought about what families value and they've tried hard to cater for everyone in the way their ships are designed and kitted out.
If you are thinking of heading over to Ireland, we really can't recommend Stena Line enough. From check in, to guest services, to ordering food and drink the staff were all fantastic. The ships are clean and well looked after and it's a lovely way to spend a few hours as a family!
This is a collaborative post.