Are you travelling with your children this summer? For lots of us, this summer is likely to be the first time we've travelled any huge distance with our children since before COVID, it's normal to feel a little out of practice or overwhelmed by the prospect even. Planning some travel activities can help.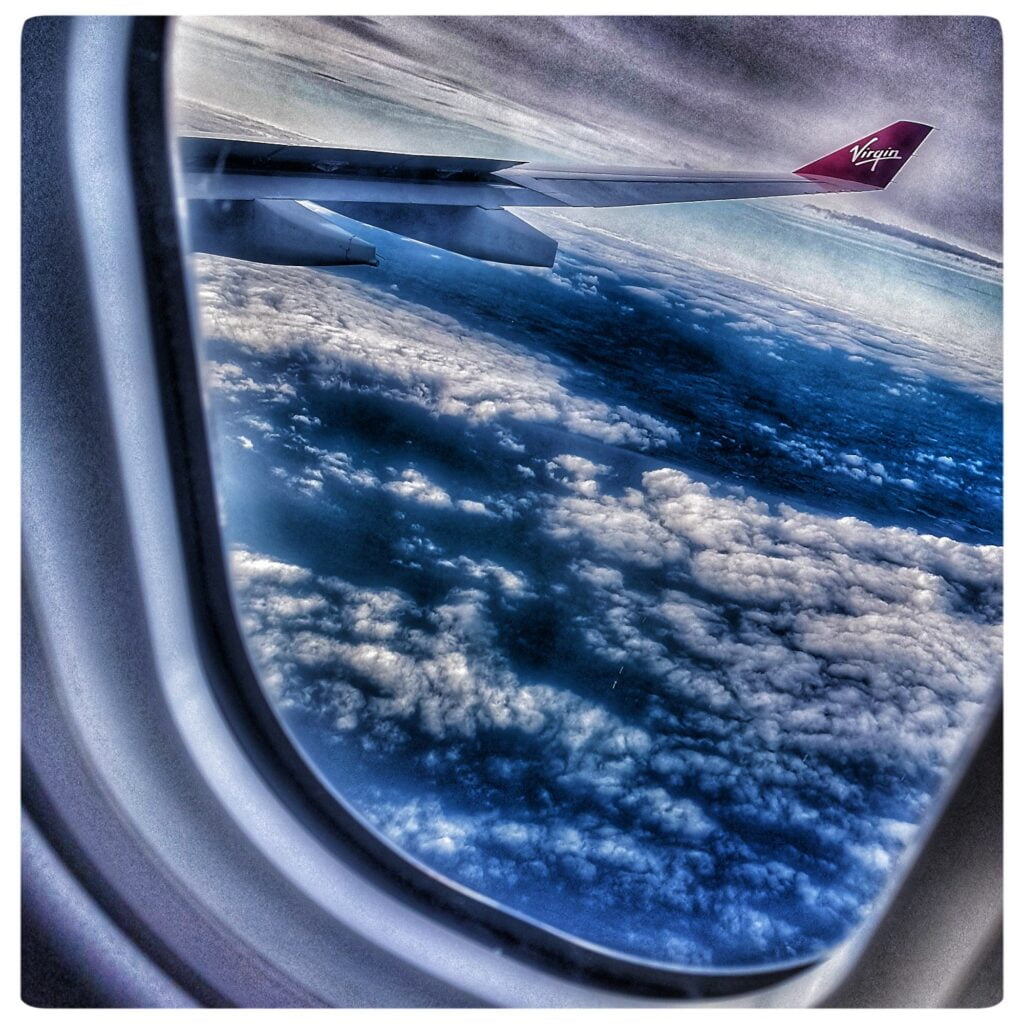 To help get you prepared for your summer travels, I've put together a few activities and Kids Travel Accessories that can smooth things over along the way. I know that there are lots of reports at the moment of ridiculous queues and wait times in airports, which understandably are making parents anxious – show me a child who loves a long queue! One of our children is horrific at queueing or waiting for anything, so I will certainly be going armed with numerous distractions when we head to the airport this summer.
Of course, it's not just waiting at airports when you might need some travel activities, devices or interactive books. Short plane journeys mean no in-flight entertainment, then with long-haul flights, often children will want a break from watching or wearing the headphones and need something else to occupy them. If your trip involves driving long distances, you will need activities for the car and then you might want games to play as a family in the evening even, so this is an important consideration when travelling with kids.
I try to share all the travel activities around the children's rucksacks, so I don't end up carrying everything and then I keep a few emergency distractions in my own hand luggage bag, for those times of high stress when you literally need to pull something out of the bag to prevent a colossal meltdown. When the children were smaller I used to put a couple of new Illustrated Story Books they hadn't seen before in my own bag and distract them with the pictures, or better still, those touchy-feely books! Shame this no longer works really!
Obviously it will depend on your children's ages and interests to some extent what you pack, but I will share the kinds of things I've found useful over the years.
Card Games
Card games are great because they are small and compact and don't weigh much. Younger children enjoy things like Top Trumps which you can get based around tons of different themes (we've had Harry Potter, dinosaurs, Monster Trucks and Barbie over the years). These are great during airport delays, and coach and train journeys as you don't need much space.
Our children also love things like the Monopoly card game, Uno, and the Emoji card game. Also, for older children, just a standard pack of cards can pass some time. Our children love playing 21s and cheat.
Activity Books
Activity books are brilliant and can be great for all ages. Older children often enjoy things like crosswords or sudoku, whereas younger children love word searches or activity books based around whatever their favourite thing is at the time, There was a point in time when I didn't go anywhere without a princess and superhero activity book!
This summer I'll be packing a range of activity books for the children. Our youngest still loves dinosaurs, so this activity book below from Over the Rainbow books will be perfect. If you have a look at their site you will find a large range of travel activity books just perfect for your summer travels. The little boys both love practising their timetables too, so I'll be packing one of those activity books too.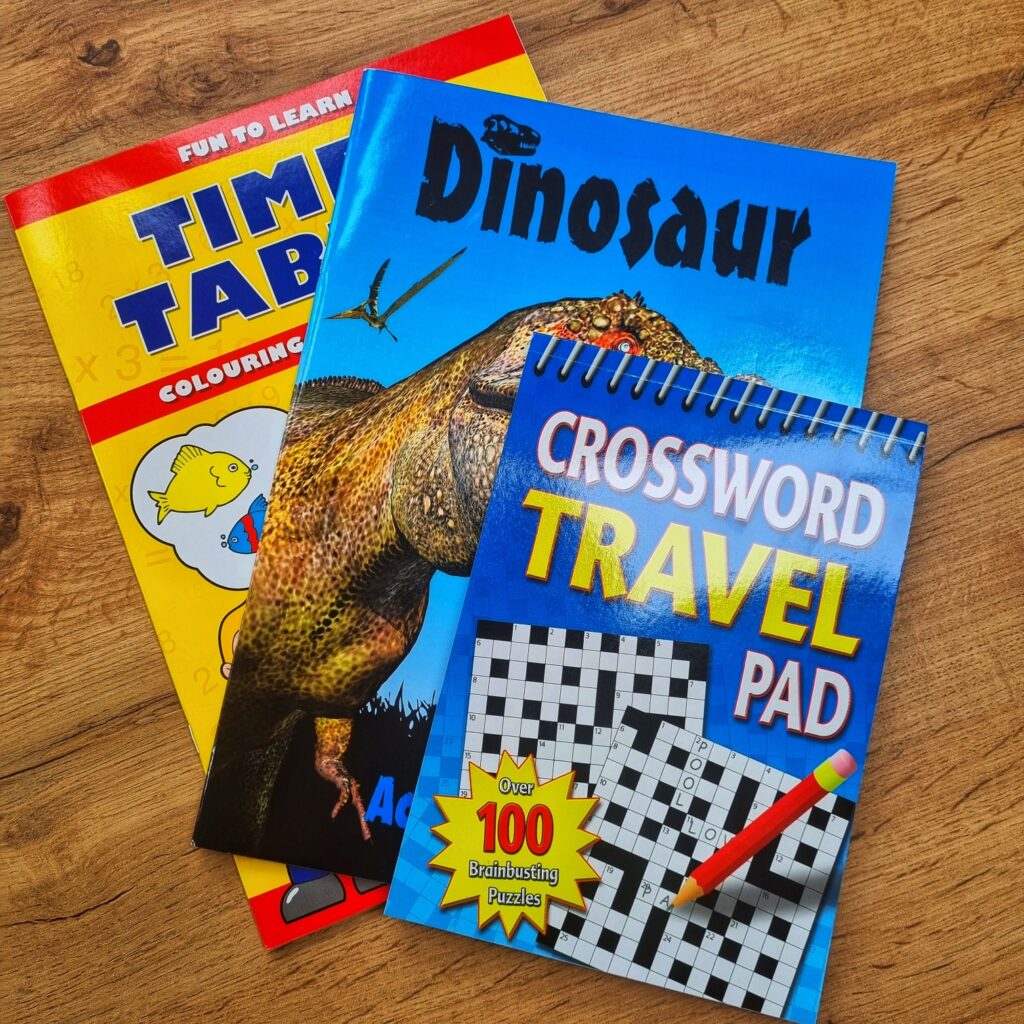 Colouring/drawing/scratch art
These days colouring isn't just for tiny tots. There are some stunning mindfulness colouring books around for all ages, making this a universal activity, proven to induce calm and relaxation.
Of course, you can still find themed colouring books too, on literally anything children are into. If you want to mix things up a bit, you could add in a doodle pad or one of those scratch art pads. Our boys love these – you know the ones where you scratch off the black to reveal the picture.
Fidgets
Don't underestimate the power of a new popit or other fidget toy when stress levels are high. These can be a great distraction for children and can have quite a calming effect. Again, the great news about these are that they don't take up much room, so you easily stick a couple in a bag. For older children, consider a Rubiks Cube!
Small Games
These days you can get small travel versions of lots of games. Things like mini Trivial Pursuit, Cluedo, Connect 4 and many more. Adding a couple of their favourite games into their travel bags can be a game changer. If your children love board games as much as ours do, these could be a winner!
Devices
As much as we want our children to do other things I do think we have to accept the part devices can play. The fact is, that they are a good distraction and useful from the point of view of they can do multiple things. The main thing I would say is make sure they are fully charged beforehand, take a fully charged power pack with you and make sure you have the charger for the device and an adapter. No parent needs a dead battery on their child's device when a delay to your flight has just been announced!
Happy travels!