Have you been to Universal Studios in Orlando before? Perhaps you are planning a trip to Florida and wondering if the Universal parks are worth it. Well we certainly think so. Universal Studios and Islands of Adventure are next door to each other and connected by The Hogwarts Express, they are two of our favourite parks in Orlando.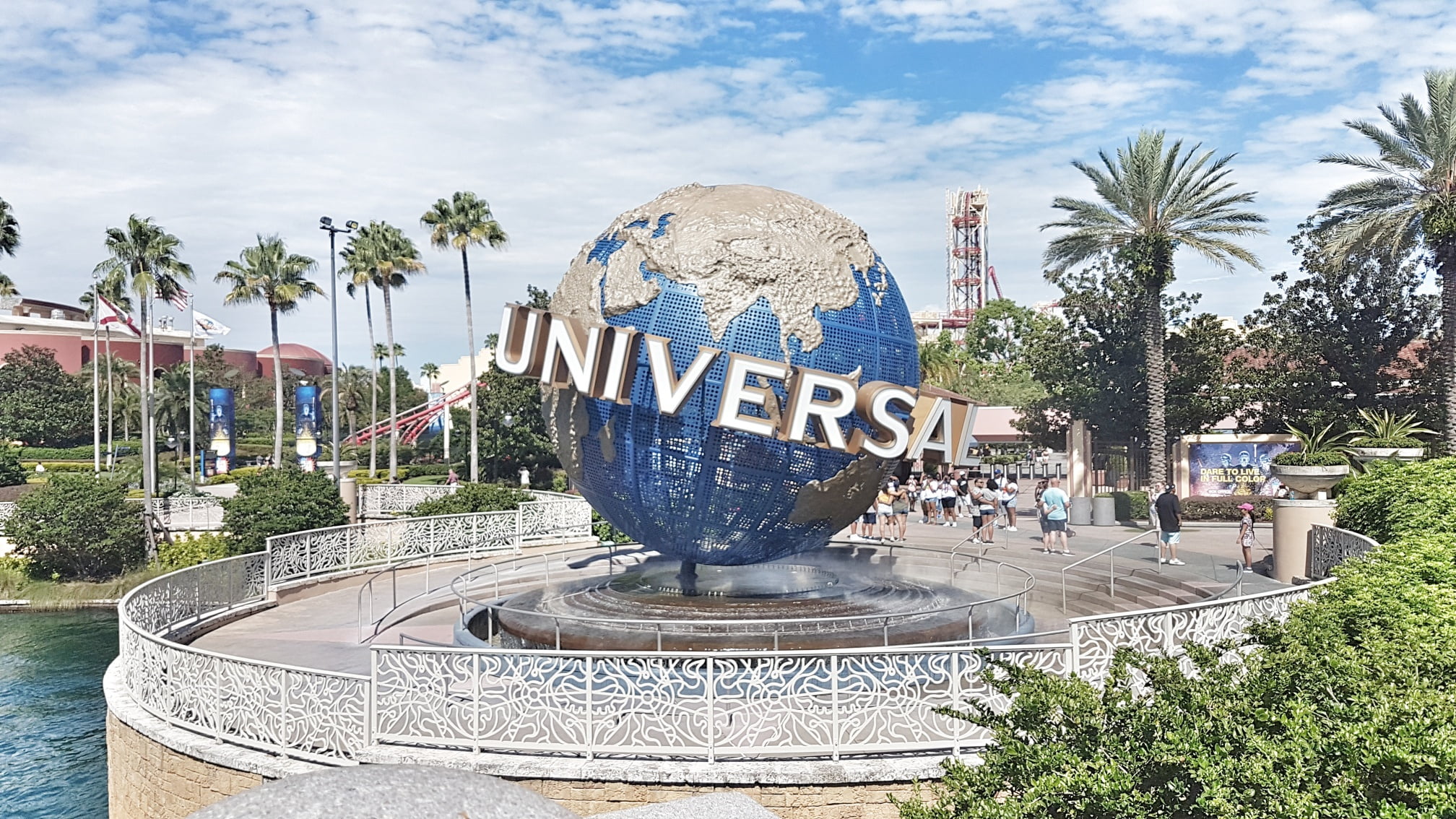 We haven't been to Volcano Bay yet, which is the new water park for Universal, but we've heard great things about it.
Now, one of the things to bear in mind about Universal is that it's busy. On our most recent visit I got talking to an American lady in the queue for tickets who told me that the only day of the year she had seen it quiet (ish) at Universal Orlando was the day before Thanksgiving. Presumably that was because everyone was travelling to see family that day.
You can save time by choosing to get your Universal Studios tickets in advance. In addition to that, you may wish to consider buying Express passes, looking at child swap and the virtual queue system. Not all rides operate these systems, so check in advance so you can best plan your day.
If you are doing more than one park during your stay I'd recommend not trying to cram it all into one day. If you only have one day available, the only way to cover more is with an Express Pass.
So what are the must do rides and shows?
Of course everyone likes different things and there is tons to see and do at Universal. Here are a few of our favourite things:
E.T Adventure
One of the family-friendly rides we love is the E.T Adventure. It's really magical and fun for everyone. It's a real visual experience and one that everyone will enjoy. What's more you get to ride a flying bicycle like in the movie!
E.T. needs your help. His home planet is dying and only you can help him save it. It's a action packed but gentle ride through the sky. You'll have to dodge bad guys trying to track him down, but you'll get a personal thank you from E.T at the end.
It's one of those rides you could go on over and over again.
Jurassic Park River Adventure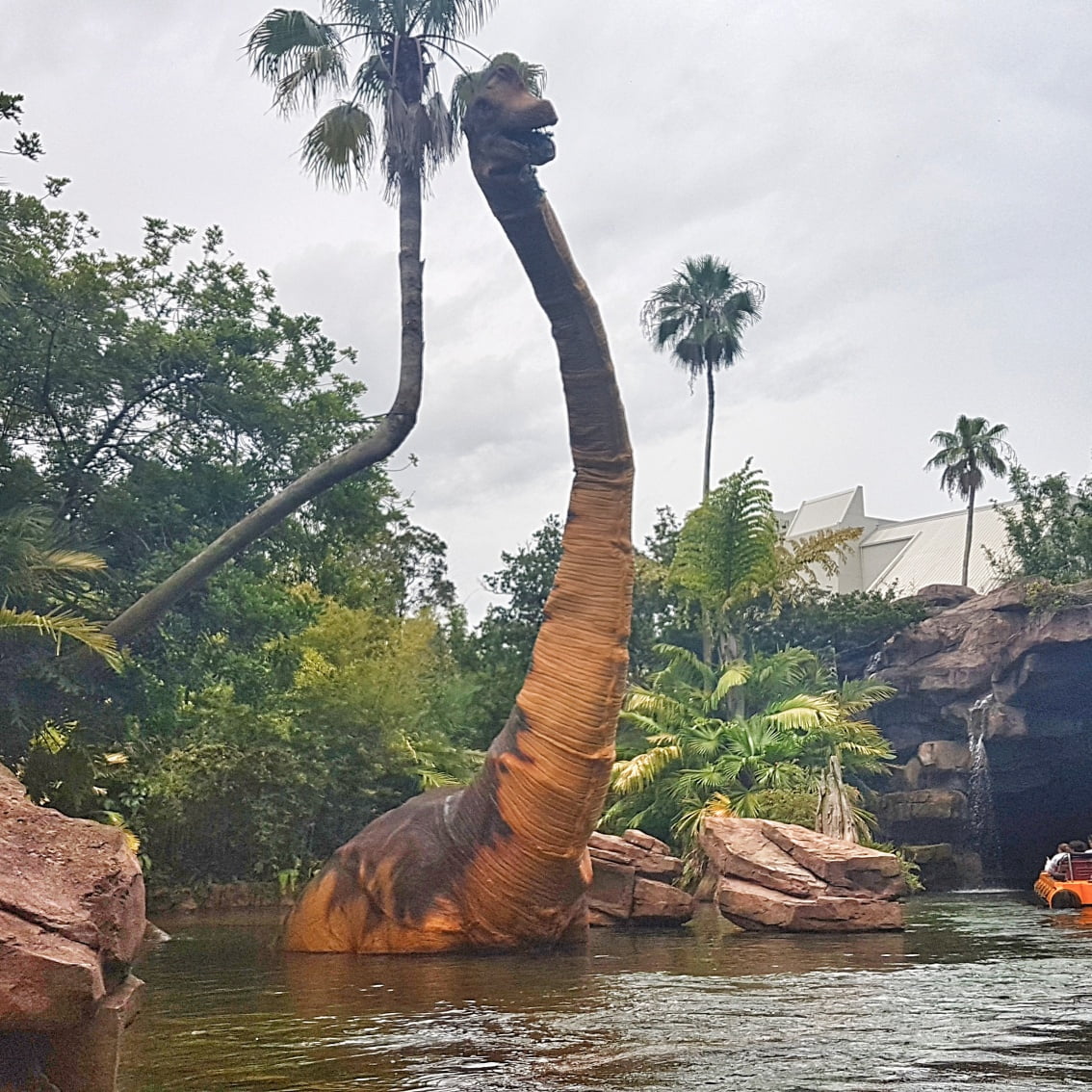 We love all things Jurassic Park in our family, sadly this ride had a height limit that meant the biggest dinosaur fan in the family couldn't take part. We kept him busy looking at all the other dinosaur-themed things in that area of the park, and we used the child swap facility, which I highly recommend. It meant the three older children got to ride with each of us.
I have to say that this ride is my personal favourite across the two parks. It's one of those rides that even if you'd queued for ages, you'd think was totally worth it. It's a decent length, exciting and the animatronics are seriously impressive. Beware…you will get VERY wet!
This scenic water cruise starts out innocently. You're gliding along in your raft, watching a baby stegosaurus and its mother share a moment.
When out of nowhere, you're bumped off course and thrust into the ominous "restricted area" of Jurassic Park™. This is where they keep the other creatures. The REALLY dangerous ones. It's dark and there's a small drop, but then suddenly, a T. rex stands before you. There's nowhere to turn. Your only possible escape from his razor sharp teeth is to take the pitch-black plunge before you – the 85 foot drop!
In my view – the best ride ever!
Hogwarts Express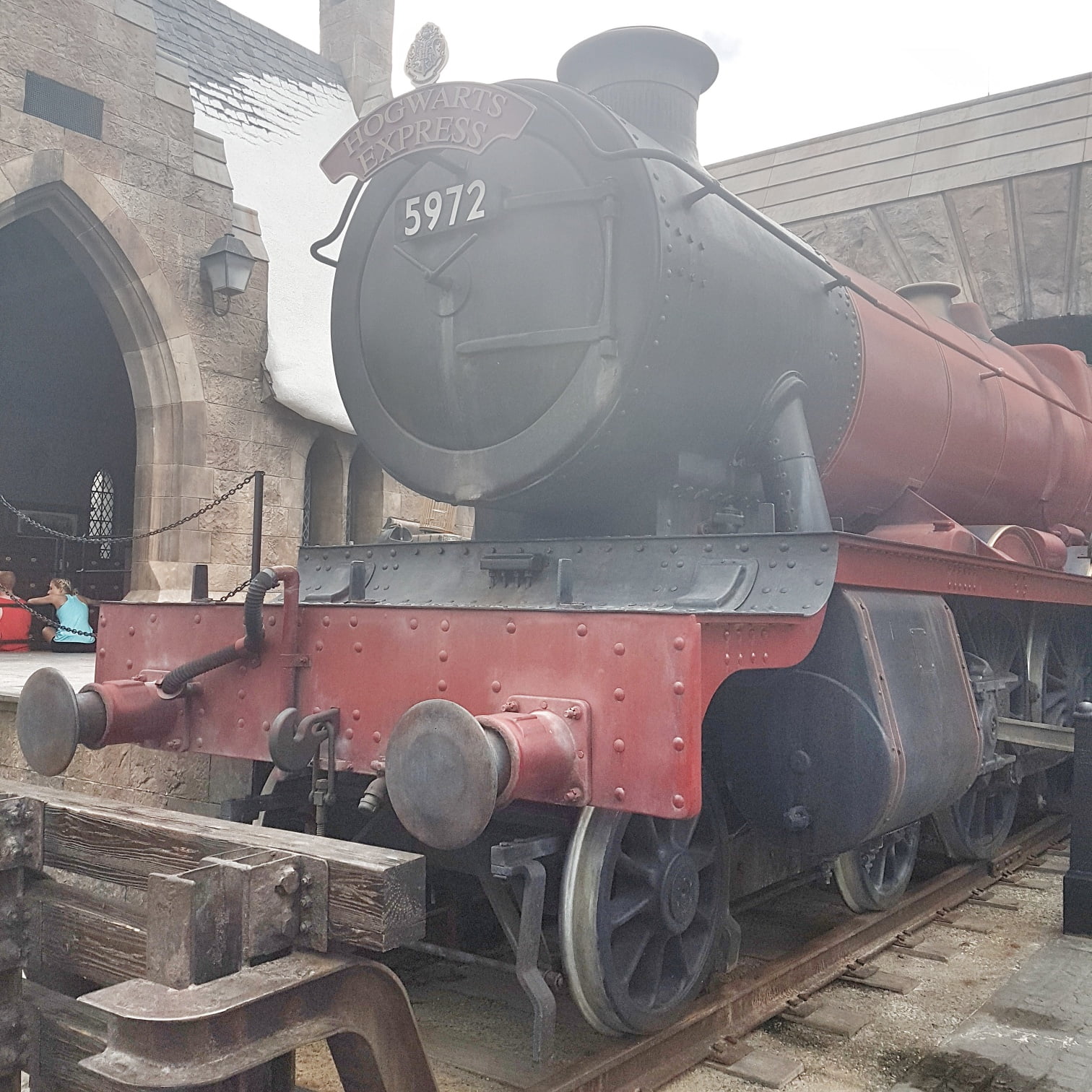 The Hogwarts Express wasn't open the first time we visited Universal, it was under construction. We were really excited this time. I think it would be fair to say that we were underwhelmed but still loved it and it's a good way to get between Universal Studios and Islands of Adventure.
I think we'd built it up in our heads and it just wasn't quite everything we expected it to be. With huge Harry Potter fans in the family though we couldn't miss out and we'd do it again.
To board and ride the Hogwarts™ Express between the two lands of The Wizarding World of Harry Potter™, you'll need a Park-to-Park admission ticket. Additional restrictions apply.
The Incredible Hulk Coaster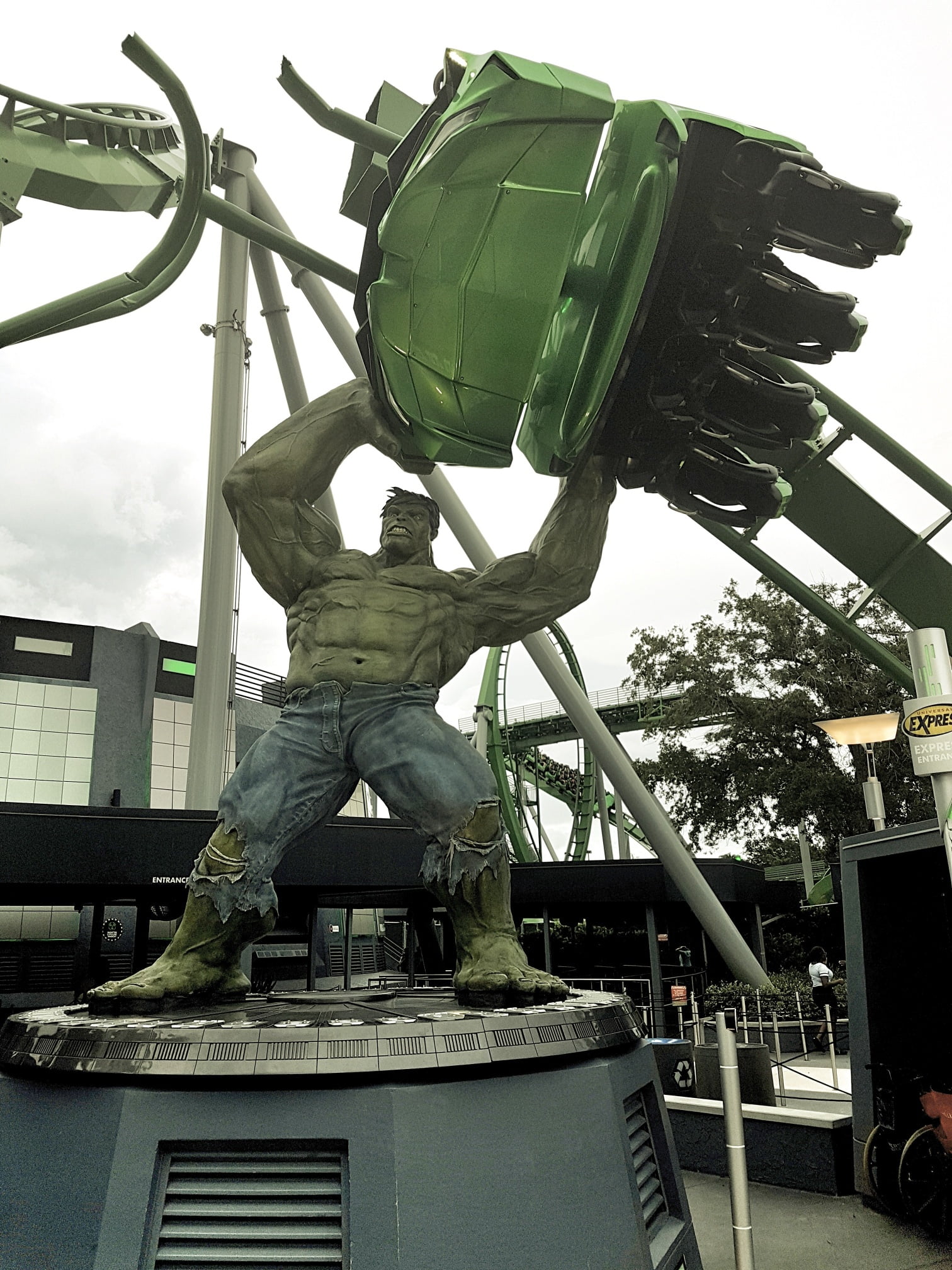 The thrill-seekers of the family loved this one! You step inside a high-security research compound commanded by General Thaddeus "Thunderbolt" Ross. The story goes that you've bravely volunteered to be a test subject for a (potentially life-altering) science experiment based on Dr. Bruce Banner's research. At the General's word, your group is blasted with gamma radiation.
Before you can blink, you're catapulted out with the force of a fighter jet. Hulk-like power propels you upside down into a weightless zero-gravity roll, racing faster and faster down the track.
If you are a fan of a fun, fast coaster then you'll love this one!
The Cat in the Hat
We all loved this ride and it was one the six of us could ride together. It's wild and wacky and you are transferred into the wonderful world of a Dr. Seuss story. Each scene has been vividly re-created with colorful characters and crazy motion as you twist from room to room.
While the mischief builds inside the house, The Cat in the Hat™, and Thing One™ and Thing Two™ make quite a mess. There are bumps and thumps and things going "crash." You are left wondering what you just experienced, but you know you loved it.
A fun ride for all the family!
A day in the park with Barney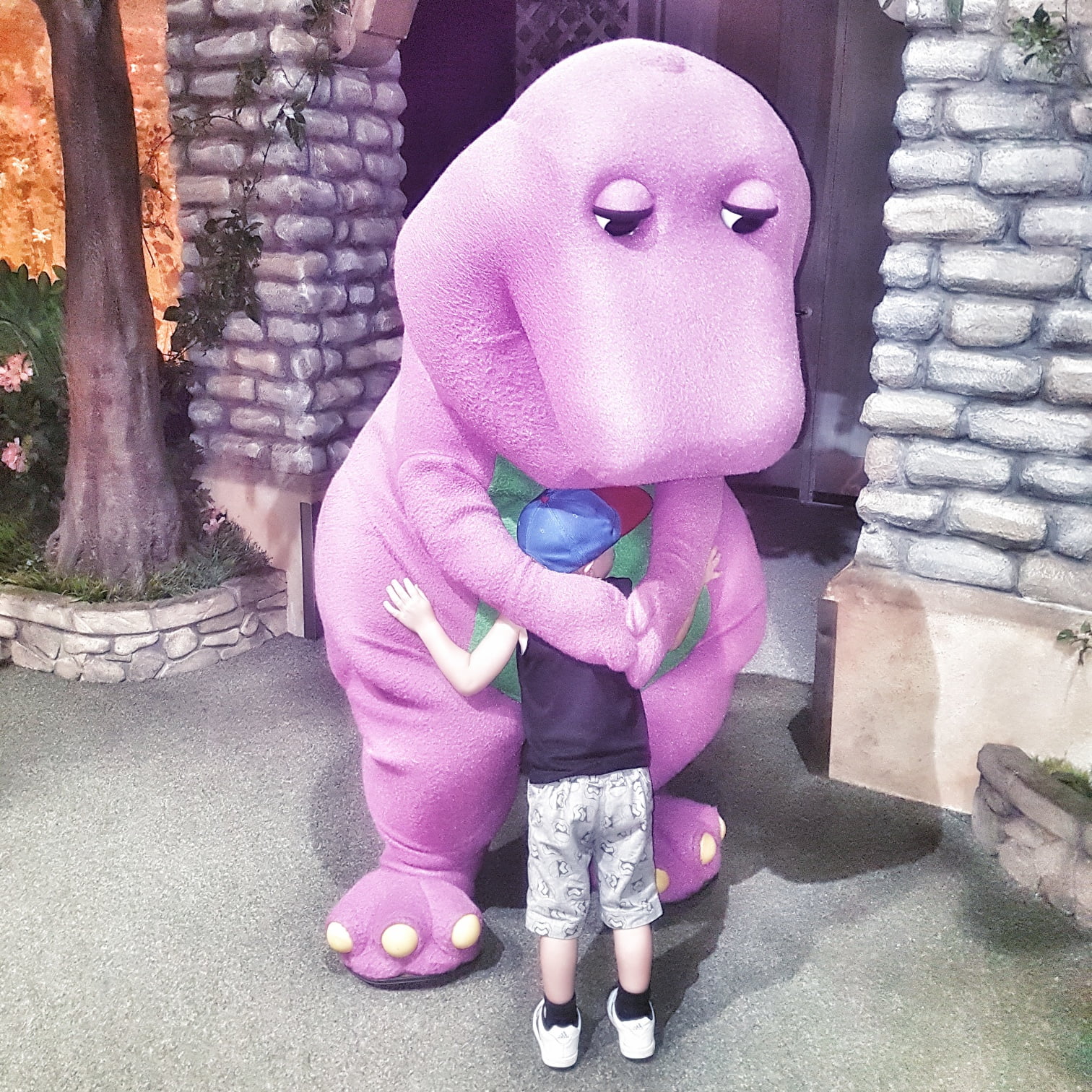 Our little ones love Barney the dinosaur, so one of their favourite things at Universal was the Barney show. They had the chance to meet Barney afterwards, as well as play in Barney's back yard and park – which is a small child's dream. It's such a rich play and learning environment your child won't want to leave. Join the world's most popular purple dino-star, Barney™, in his very own Super-Dee-Duper™ attraction.
It's the only place on Earth where children can meet Barney and his friends Baby Bop and BJ in a sing-along, clap-along musical show which takes place 365 days a year. You will watch leaves fall from the sky, snowflakes flutter down and the stars come out – a truly magical show for all the family and one not to be missed if you have young children with you.
The show is very inclusive, ideal for children with additional learning needs and there are special signing performances.
What else?
Universal Orlando is a total sensory experience. The sights, the sounds, the smells. There are characters to meet, shows to watch, so many things to just look at, tons of photo opportunities and of course amazing rides.
We never leave feeling like we've done everything we wanted to but of course that makes us want to go back and do it all again! We are definitely huge fans of Universal Orlando.