What do you know about Vitamin D?
We get most of our Vitamin D from sunlight on our skin. The vitamin is made by our body under the skin, in reaction to summer sunlight. However, if you are out in the sun, take care to cover up or protect your skin with sunscreen before you turn red or get burnt.
Vitamin D is also found in a small number of foods. Good food sources are:
oily fish – such as salmon, sardines and mackerel
eggs
fortified fat spreads
fortified breakfast cereals
some powdered milks
There are dangers of being Vitamin D deficient BUT also dangers of having too much – but how much is too much? Also…are some people more at risk of being deficient in Vitamin D than others?
This useful infographic below answers some of the important questions. Just click the image to enlarge it.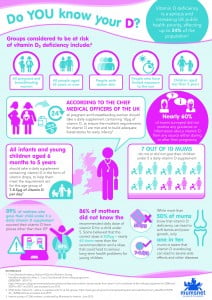 A new survey of over 1,000 women carried out by Mumsnet, the UK's largest network for parents, on behalf of Internis Pharmaceuticals Ltd. (Internis survey undertaken by Mumsnet of 1,036 mothers. June 2015), has revealed that mothers and mothers-to-be are in the dark about vitamin D and the dangers associated with vitamin D deficiency and overdosing. This worrying lack of awareness means that some mothers are unwittingly putting themselves and their children at risk of serious and long-term health problems.
Have you been given any guidance on Vitamin D? I certainly haven't been, it is something I researched on my own. I normally think that i am quite savvy and in the know when it comes to things like this but a lot of the things written about Vitamin D are unclear.
Despite concerns from the UK's Chief Medical Officers about the increasing prevalence of vitamin D deficiency and its potential long-term impact on health, the survey found that almost 60% of mothers did not receive any guidance or information about vitamin D from any source either during or after their pregnancy.
What's more, in the absence of any guidance, mothers appear to be taking matters into their own hands. Nearly 90% of mothers who gave their child under five a daily vitamin D supplement, sourced it without a prescription from their GP. In comparison to prescription only medicines, the under-regulated products have been shown to include variable content of vitamin D, with consistent inaccuracies in the stated dosing, not only between batches, but also between pills from the same pack. I have certainly bought supplements for my children, I wasn't aware that these could be sourced on prescription…anyone else?
It seems from the Mumsnet survey results that I am not alone. I find this quite worrying as a mother and I feel that there is a real need for education and awareness around Vitamin D – this is fast becoming a significant public health concern.
What are your thoughts? Does this worry you? Do you feel clued up or left in the dark?