If you are a regular reader of the blog, you will know that my youngest little one is crazy about dinosaurs. At six, he knows a phenomenal amount of facts about both the creatures themselves and this period of time. Quite frankly, he regularly educates us all.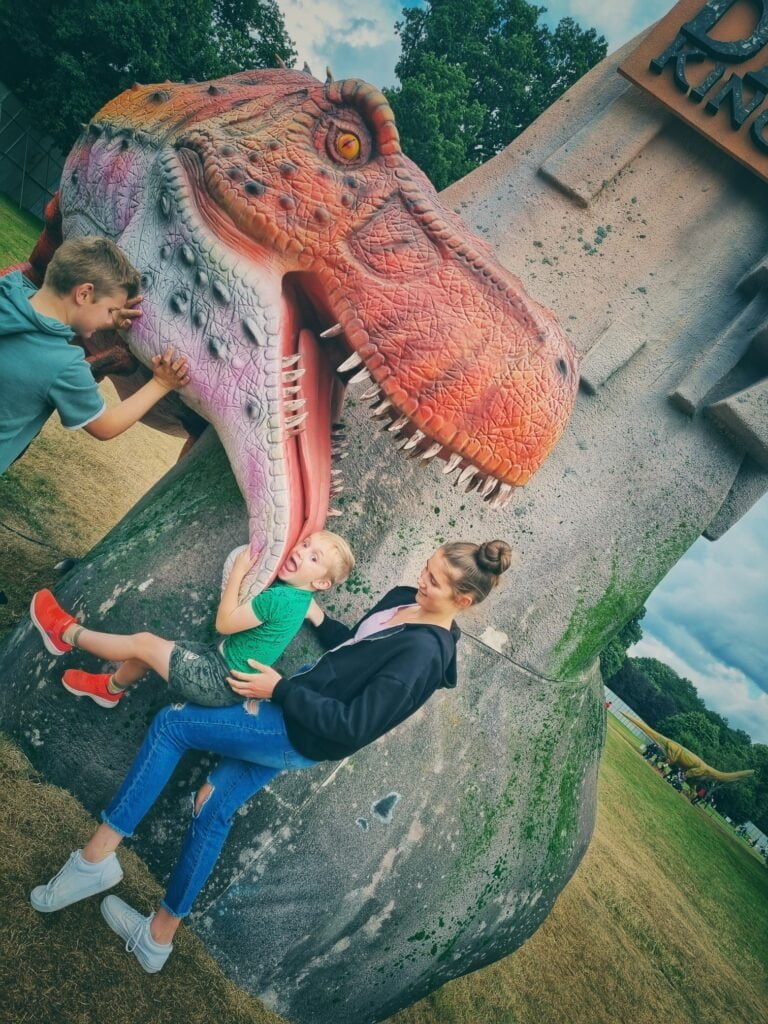 You may have seen the preview I ran of Dino Kingdom a little while ago, if not you can see that here. We were very pleased to be invited along for a press visit this week, here is a little bit about what we thought and what to expect if you visit.
This is a rare chance to walk among the dinosaurs on a Jurassic journey of discovery in a brand new immersive outdoor experience. In Manchester from July 23rd until 15th August and then in Nottingham from 15th October until 31st October.
The epic adventure aims to bring ancient history back to life with jaw- droppingly realistic dinosaurs including the gigantic T-rex, King of the Jurassic era, and all kinds of other animatronic creatures that can move and roar!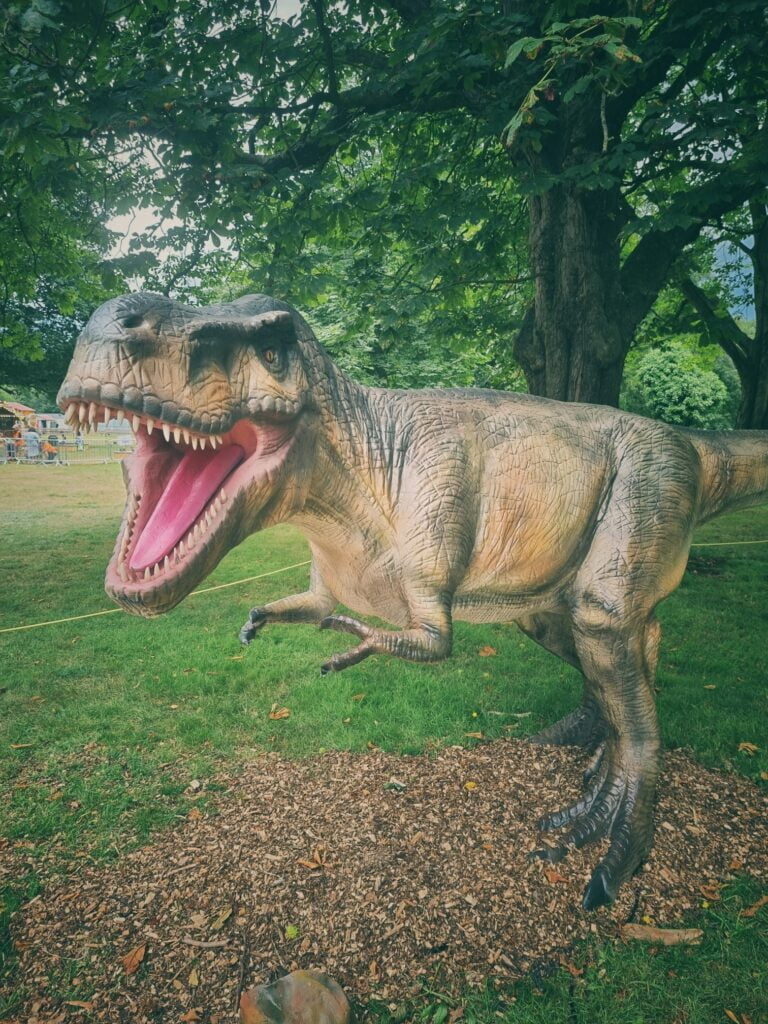 The venue
We went to the Manchester venue, which is located at Wythenshawe Park. If you are travelling there, make sure you follow the event signage, as the entrance to the event is not the normal entrance to the park.
It was a really good venue, with plenty of parking and offered lots of space to make social distancing easy. I'm not familiar with the venue being used for the Nottingham event, but I'm guessing the set up will be similar.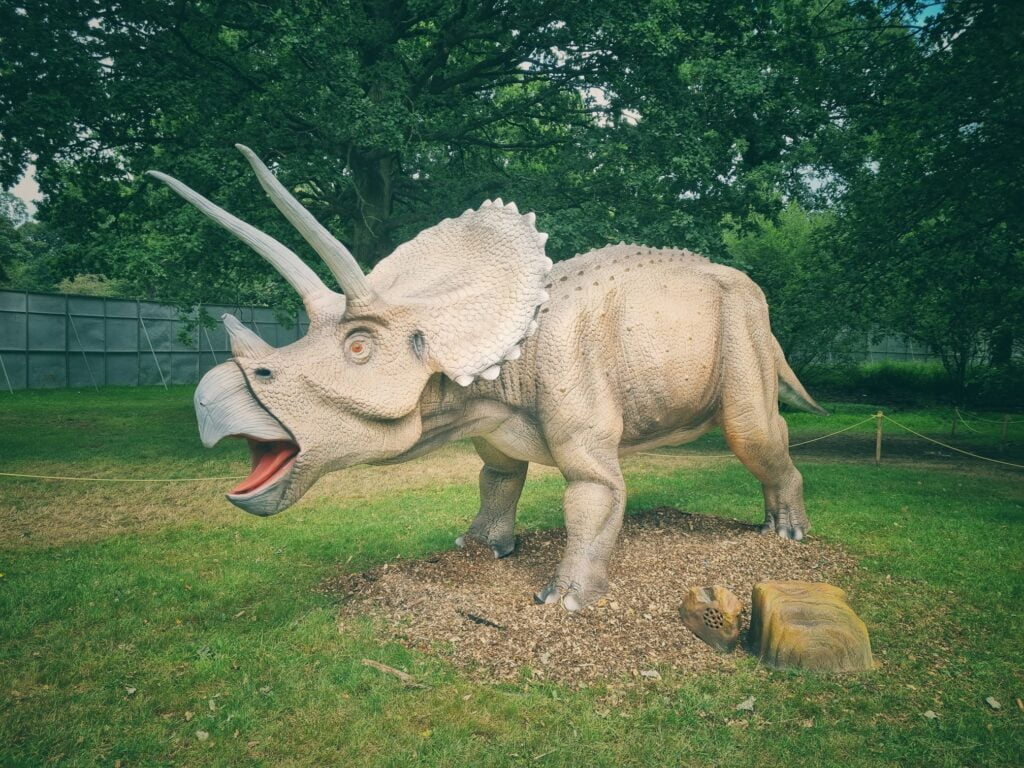 Things to see and do
After a short walk from the car park, you enter the attraction and can walk around the dinosaurs at your leisure. This is wonderful as they are so impressive. You can scan the QR code on each display to learn more about them. We tried to guess each dinosaur as we walked towards them.
Don't miss the woodland walk as there are lots of giant creatures in there too, like this enormous bee. It's easy to miss this section when children see the lights of the fairground.
There were a few sandpits for hunting for dinosaur fossils and bones but most people seemed to be saying that things had been taken out of them and there wasn't much to find, so this possibly needs checking.
There were a couple of tents which seemed to have activities inside but people were being turned away and told to come back later. It wasn't clear if this was related to the bad weather or something else.
At the end of the circular walk around the exhibition is a fairground. These rides are not included in your ticket. As an example the balloon ride was £3 per person and the dodgems were £4 per car. Payment was by cash or card. There were lots of places to buy food, drinks, snacks and so on. Again, as an example, a bag of candy floss was £6.50, 4 doughnuts were £6.50 and a bottle of drink £2.50.
How much does it cost?
Advance tickets are priced at £15 for adults, £13 for children (under 3s are free) and £54 for a family ticket. Join the Jurassic journey here:
www.dinokingdom.com. This price is for a maximum of three hours.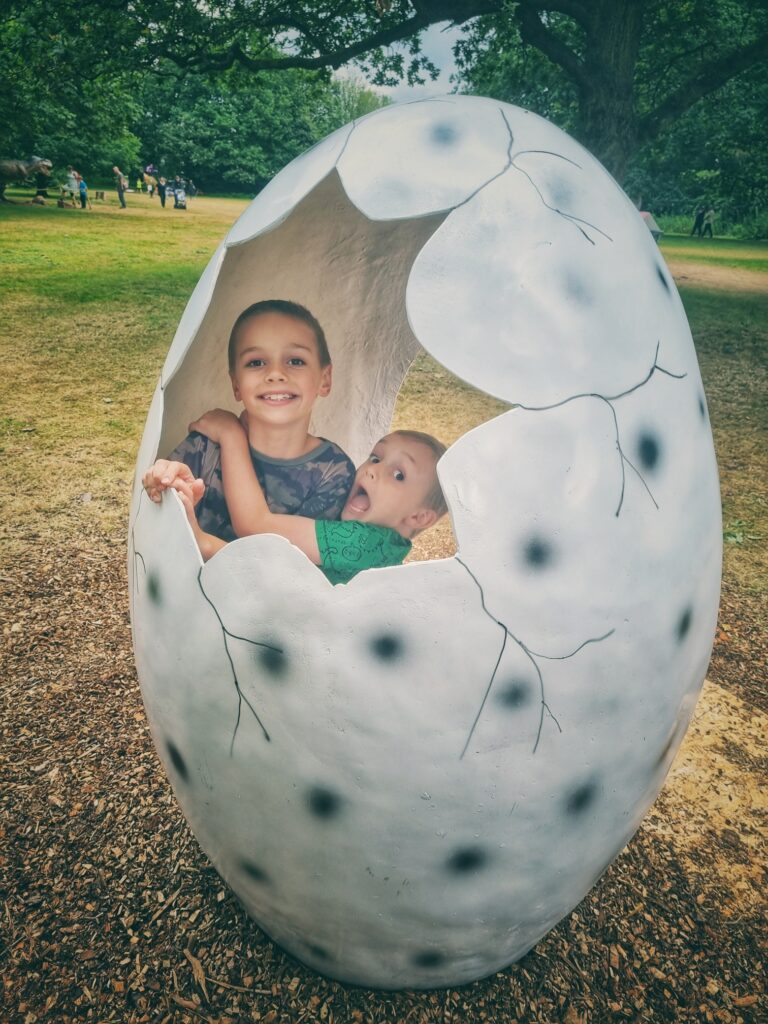 You also need a parking ticket which can be added to your cart online when you buy your tickets. These are £3 plus a £0.78 fee/tax. The parking was very well organised, with plenty of staff on hand and matting was put down in the field to ensure no issues with cars getting stuck.
What we thought
We absolutely loved the dinosaurs. Without question these are ridiculously life-like and incredible to look at. It actually makes quite a difference seeing them in an outdoor setting I think, because you can really imagine these creatures running around the park and woodland.
Some serious talent has gone into creating the look and movement of these dinosaurs, they are very, very, impressive.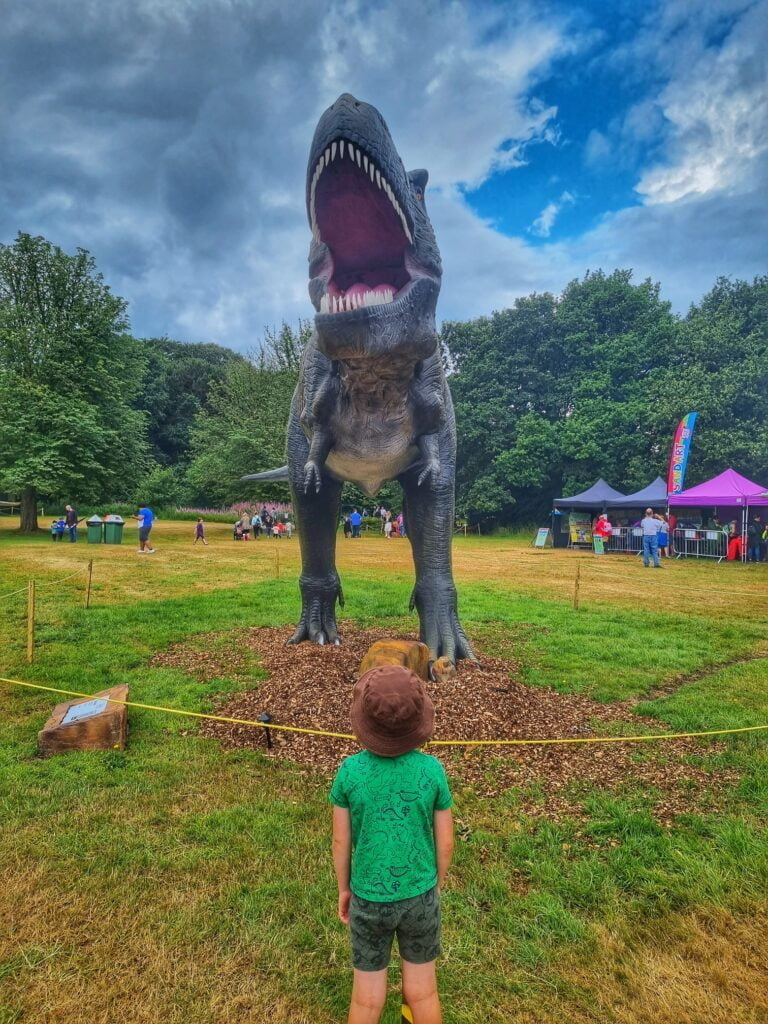 I think our only gripe about the dinosaurs would be that they were over too quickly really. I think I expected to see some roaming around the park interacting with families, but there was non of that. Most families were getting through the dinosaurs quite quickly and everyone seemed to be either in the queue for face painting or on the fairground rides. This did seem a bit odd to me as the attraction was these incredible dinosaurs.
The fairground was situated at the end of the circular walk. It was in the main overpriced and not in any way related to the dinosaurs. Perhaps if there had been some dinosaur-themed rides or dinosaur-themed snacks, instead of the same fairground rides and over-priced candyfloss and doughnuts you see everywhere, then it would have felt more in-keeping with the exhibition of these impressive creatures.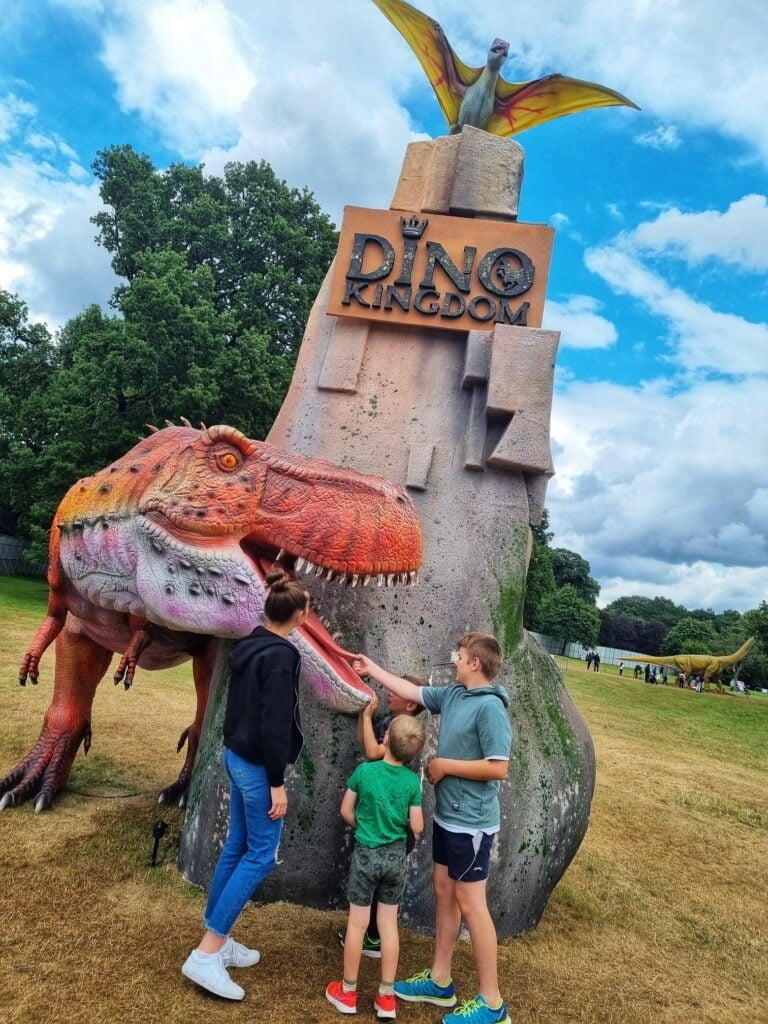 That being said, the bulk of families were in this section the majority of the time, so perhaps that's what lots of people enjoyed.
I think with a little more thought you could have added some low-cost dinosaur activities that could have been included as part of the ticket price, so families felt they were getting a little more out of their ticket. Kids love posing in and on things for photos, so perhaps having a dinosaur children could sit on for a photo would be a good idea as you can't touch most of them (which is totally understandable), or a dinosaur-themed play area even?
If you love dinosaurs, you will love these. They are seriously impressive to look at and well worth your time. Unfortunately, our session was cut short as there was a really bad storm and the attraction was closed for safety reasons. This was absolutely the right call as there was hail, rain, thunder and tons of lightening. If you were affected by this, you can get in touch to arrange a new date and time to go back to the attraction.