Barclaycard presents British Summer Time Hyde Park – A Fun Family Event
Scooby-Doo!, Daffy Duck and Bugs Bunny? It can only be Britain's Biggest Family Event.
Added to the phenomenal line up of pop stars, superstars of kids entertainment, YouTubers and much more are some of the most famous and best loved children's characters in the world, bringing the whole family together for the perfect day.
A special kind of magic is recreated in a screening of Disney's award winning Frozen at the start of the family event.  The 'sing-along' version of the film will be shown on the massive screen on the main Great Oak Stage.
Warm up for the day with Frozen as thousands come together as an enormous choir and we finally see what happens to snowmen in summer!
The Gaming Zone combines two favourites of children everywhere – LEGO® and dinosaurs! With its brand new and highly anticipated LEGO® Jurassic World video game, based on the hit films, you can battle with a T-Rex on screen and fully explore the expansive grounds of Isla Nublar and Isla Sorna.
Keeping energy levels high, the whole family can exercise together in the summer sun, with Looney Tunes Fit For Sport, a keep fit session with a difference as we join Bugs Bunny, Daffy Duck and their friends on the Carnival Stage.
Enter the Leafy Grove Area for cult cartoon action with Finn & Jake from Cartoon Network's Adventure Time. Loved by children and adults, fans at Hyde Park can be transported to the Land Of Ooo.
The Summer Stage is dedicated to the young rising stars of YouTube, with more stars announced today – BBC Radio 1's Jack & Dean, twin superstars Niki n Sammy and introducing 15 year old Jake Mitchell.  Join them after their show to grab that all important selfie in our Guest Area, where meet and greets will be taking place all day long.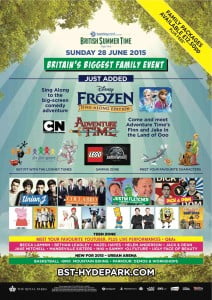 Already announced are talented musician Bethan Leadley; lifestyle vlogger Helen Anderson sharing fashion and beauty tips and taking questions from the audience; Hazel Hayes – Chewing Sand, comedic duo The Mandeville Sisters, Becca Lammin and Grace Victory, Ugly Face of Beauty all sharing their lifestyle tips.
The final day of Barclaycard presents British Summer Time Hyde Park this year will be filled with musical acts, comedy and good old fashioned family entertainment, plus award winning street food.
There will also be a chance to meet a host of your favourite cartoon characters including Lego Ninjago, Tom & Jerry, Bugs Bunny, Daffy Duck, Scooby Doo! And Shaggy.
Live Shows:
Union J
Collabro
Justin Fletcher
Dick & Dom
Horrible Histories
Sam and Mark
Brainiac
Chickenshed Theatre
Cbeebies Cook & Line Swashbuckling Pirates
The Cuban Brothers
Sean & Bex from Fun Kids Radio
Outdoor Screenings:
Frozen Sing-a-long
YouTubers:
Becca Lammin
Bethan Leadley
Hazel Hayes
Helen Anderson
Jack & Dean
Jake Mitchell
Mandeville Sisters
Niki n Sammy
Ugly Face of Beauty
DJ Future
Interactive Reading Sessions:
Peppa Pig & George
Where's Spot?
Penguin Baby Bookworms
Active:
Fit For Sport with The Looney Tunes
Urban Area
Shaun The Sheep
Gaming Zone
Cartoon Network Adventure Time Zone
Fun Kids Bus
Barclaycard Better View
First News Wheel Of Fortune
Character Appearances:
Bart & Homer Simpson
SpongeBob Squarepants
Titan The Robot
Scooby-Doo & Shaggy
With so many activities, arts and crafts, live entertainment and family bonding to be had, Sunday 28th June is one to put on the family calendar. Don't miss out on your chance to make some amazing family memories that will be talked about for years to come!
Tickets on Sale Now – Family of Four £50, £12.50 each!
We are excited to tell you that we have a family ticket for Sunday 28th June up for grabs, enter below for your chance to win and good luck!
A family ticket worth £50 to BST in Hyde Park (a fun event for all the family)