I know that for lots of people the winter weather makes them want to curl up inside and keep well away from the elements. Wind, rain, snow and colder temperatures put so many people off going outside, but what about trying to change your thinking around that? Maybe you just don't wrap up well enough? You just need to invest in some thermal socks for women and a pair of wellies. Think about all the benefits you could gain from a winter walk. I always think there is no such thing as bad weather, just a bad choice of clothing.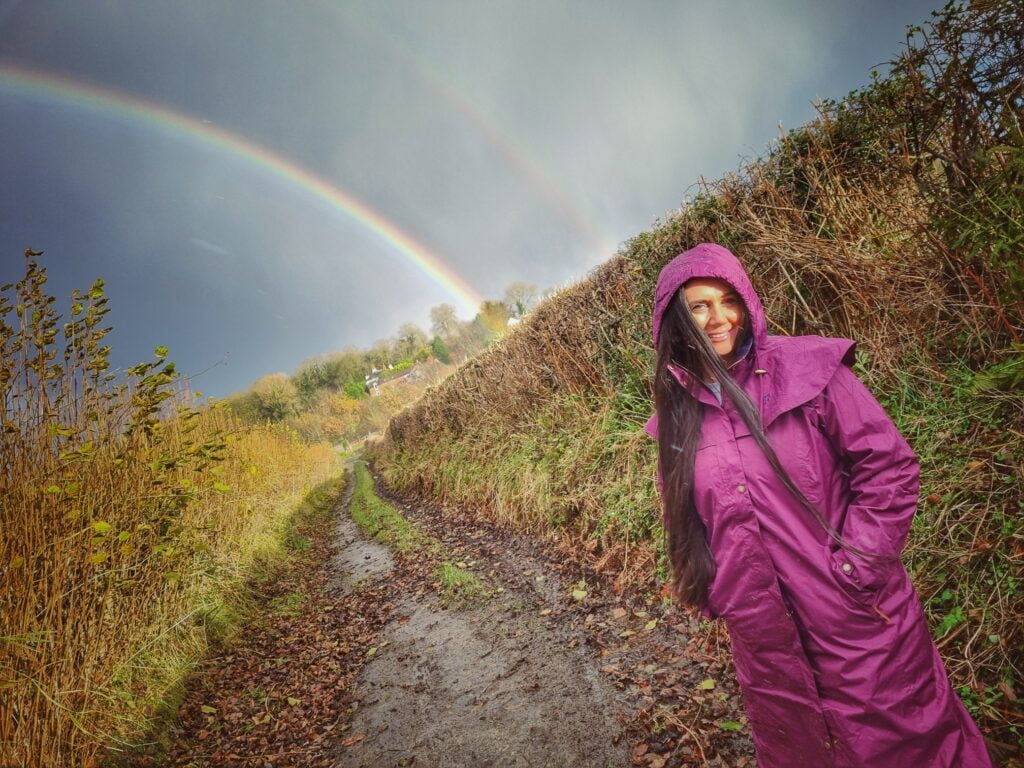 The benefits of getting outside in the winter
Despite the often strong urge to stay inside during bad weather, it's much better for both our physical and mental health to get outside.
Getting outside in winter charges up your immune system. Given the current status of the COVID-19 virus and things like winter flu and other bugs that are flying around, we could all do with a boost to the immune system couldn't we? Walking out in the cold has been shown to flush out bacteria from the airways and lungs. So why not wrap up warm and get outside? We've all been told to open windows when meeting people indoors to help to curb the spread of COVID-19, why not just meet up for a good walk instead?
I've been wearing my full-length waterproof coat for walks recently (and even school runs), I love it because it combines the classic country heritage look with a fresh, modern design – and it's plum! Highly waterproof and windproof, nothing gets through this! Available in sizes 6 to 24 and in seven lovely colours. You really can't go wrong with this. My favourite features are the openings at the side and back as this means you can easily climb over gates and styles. Combined with my cosy wellies, I feel set for anything.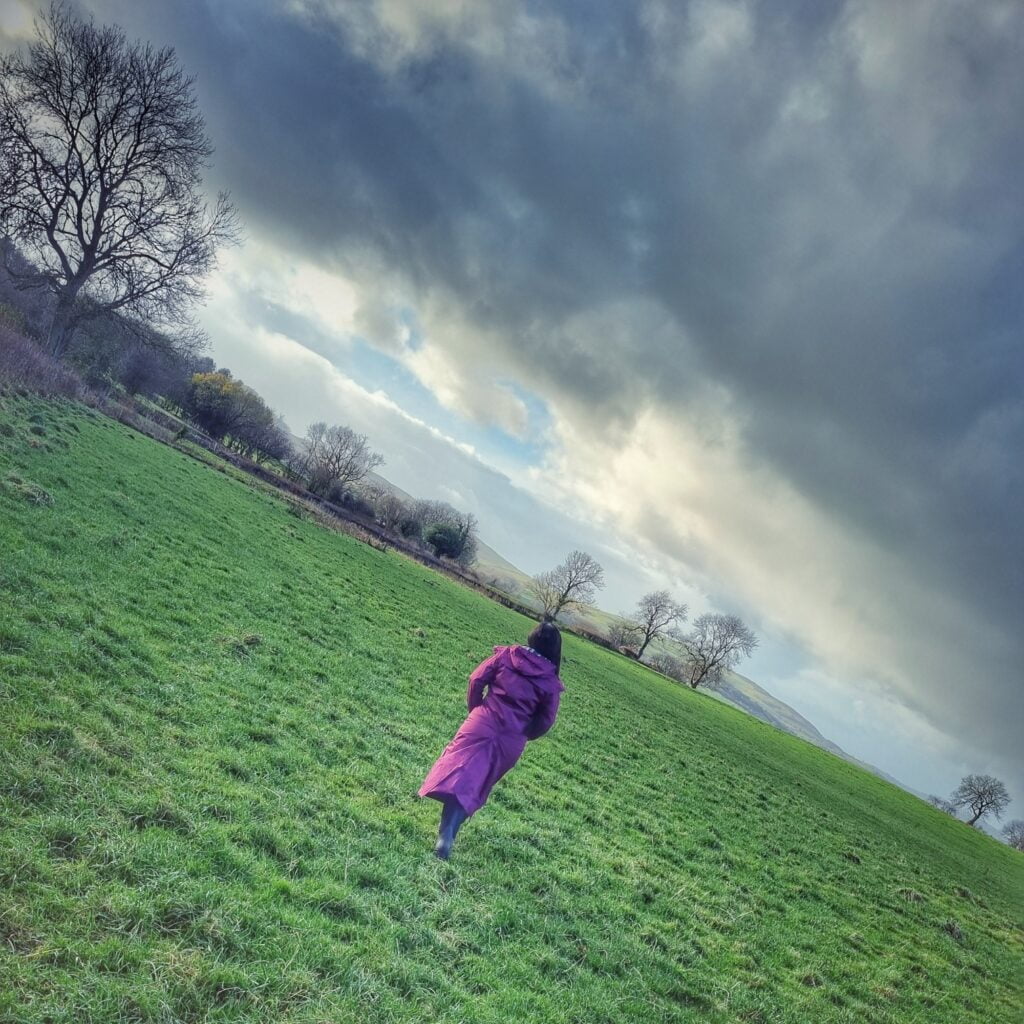 Walking in nature, especially if you are alone, can make you more mindful. It keeps you in the present and helps you appreciate the things around you, like this incredible double rainbow!
Walking outside has the ability to lift your mood very quickly. Serotonin levels in the brain are at their lowest during the winter months. That, combined with the uncertainty in the world right now can be a real mood squishier. Going outside, getting some natural daylight and getting your heart pumping can have a beneficial effect on alertness and positive thinking.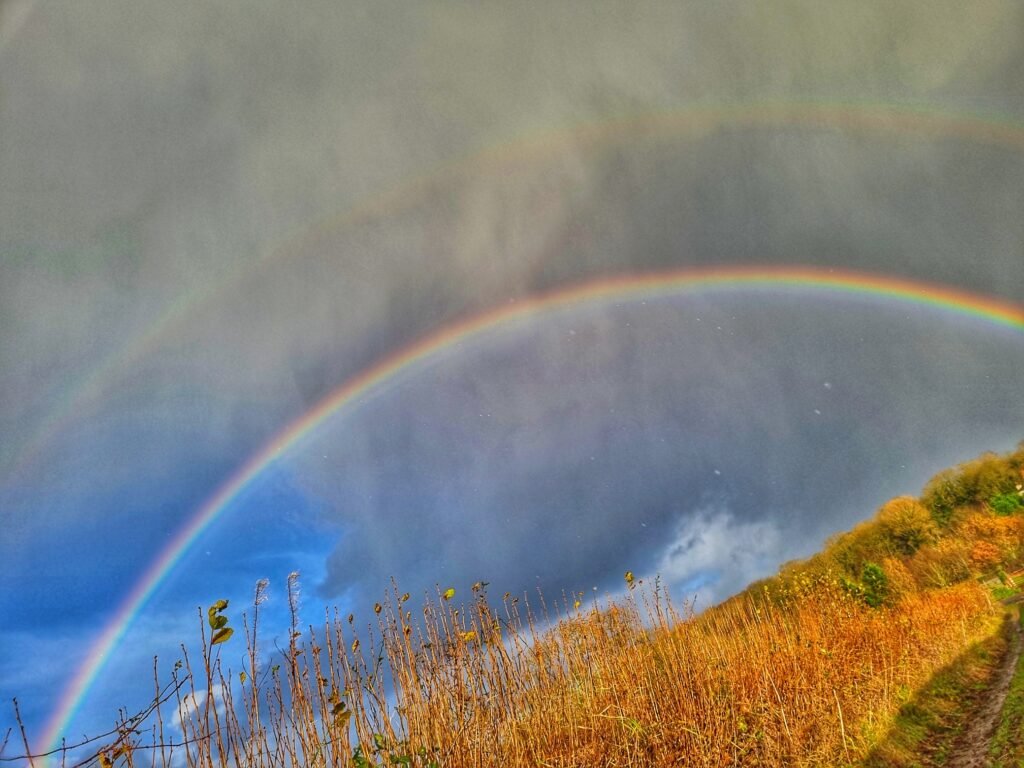 If I'm still not selling it to you, how about the fact that you burn more calories when it's cold? Walking in the cold will bring its own exercise and fat-burning benefits, plus there's also the additional calorie burning bump prompted by the cold when you are walking outdoors in winter.
Still not sold? Walking is free! Yes the gym might be warm but walking doesn't cost anything . You can exercise for hours and hours and it's completely free, no monthly memberships to pay for.
Get outside for a walk and you'll boost your levels of vitamin D too. Although this is obtained primarily through sun exposure, vitamin D can still be absorbed in the winter, and it is vital for maintaining a healthy heart and bones.
There is something really lovely about getting out for a cold, windy, even wet walk and then that feeling when you come back inside. Walking in winter is really invigorating. If your energy is low, walking instantly improves that.
Walking can be done alone, in a pair, with friends, with a dog or with the whole family. It's free, easy, and keeps you healthy – so what are you waiting for?